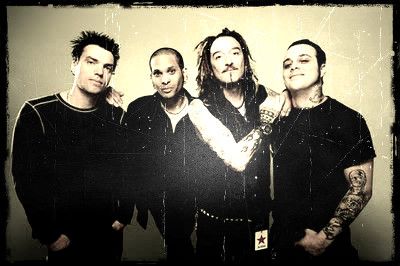 It was only a matter of time before I began wittering on about music again. Music is my life - isn't it most people's? - and it's literally the one thing I'm most passionate about. Yes, believe
that
. I love music more than running; more than clothes; more than photography. And maybe even more than Phil. But that's okay, because he's as much music-obsessed as I am.
So, where better to start with my favourite ever ensemble, The Wildhearts? My love for this band has been longstanding - if you've known me long enough, you'll remember I used to have a blog named in their honour - and will never die, I am sure. Hailing from Newcastle, lead geezer Ginger has been the pivotal part of this rock combo since the 1990s and, despite many line-up changes, have still churned out anthem after amazing anthem. I've been lucky enough to catch them live three times and not once been disappointed, and infact believe that their tunes sound a teensy bit better whilst stood in the middle of a drunken, sweaty crowd. The way people go on about music sometimes means I find it really cringey how much some can love certain groups as much as they do but while I'm miles away from ever getting a band-related tattoo, I truly feel that every melody and lyric has some resonation within me. Some music is like a drug, candy, a religion. We follow it, unquestioningly. And honestly, so many of their songs orchestrate some of the most memorable moments in my life. Perfect, really.
As a mixtape queen I'm a massive collector of songs and lover of lists, so it's only natural that I've already picked out the five tunes by this brilliant band that you have to hear:
♥
I Wanna Go Where The People Go
This is
my
song - in that, I mean it is my absolute theme piece. There is a verse that lies within that has me to a T (& far too sweary to re-type, of course) and I can never ever get sick of listening to it; even when it's the 10th time in a row. It just grabs me by the guts every time and it is, without a shadow of a doubt, my all-time favourite song.
♥
Theme from Cheers
A brilliant, all-rocked-up version of everybody's favourite theme tune (if we forget Home & Away, Baywatch and Happy Days ever happened) which is genuinely very enjoyable. And you already know every single word! Bonus. Try not wanting to bop along to this one. I'll also have you know that Chris Moyles has been known to play this song to death on Radio 1 in the past. Yeah.
♥
Nita Nitro
Nice & riffy, light with a hint of heavy, this a much more 'poppier' side of The Wildhearts. A whistley, chanty sing-along, how could you go wrong really? Well, you could have a bit of a preppy headbang along to the song like I did on Saturday morning and still be suffering in the neck department, that's what. But when it's such a cheery song, how can you be so down? (Lesson's learned.)
♥
Vanilla Radio
Otherwise known as 'the one that everybody's heard', if you ever spent more than five minute on the TV channel
Kerrang!
as a spotty angsty teenager. With an unmistakeable chorus that just makes you want to jump up and down, and that is that.
♥
Everlone
This totally brings out my fussy side. You see, I like this song. It has a terrifically promising opening and a not-so-bad series of verses and choruses, but I would gladly give those up because the ending to this song is far more epic than both of the former elements times a thousand. It's one of those endings that I just have to keep rewinding and losing myself to; two minutes of pure brilliance. Say no more.
You can
hear most of them here
on our good friend Spotify, apart from the Cheers theme which you can
find on YouTube
.
Ever checked out The Wildhearts? What do you feel is your absolute 'you' song?