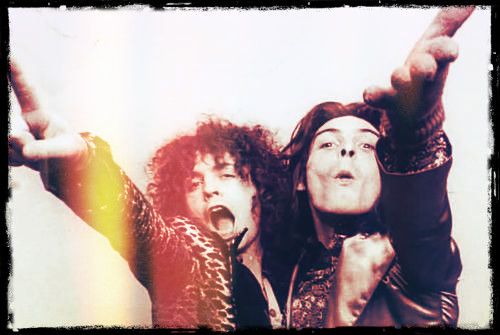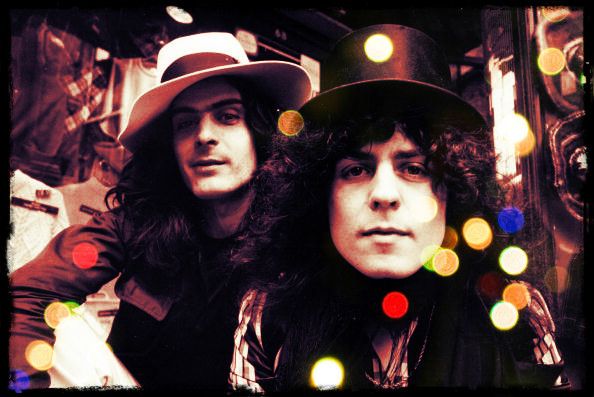 Three weeks in a row! Well, I never.
I guess in using Music Monday to showcase some of my all-time favourite music loves, I'm trying to stick as true to form as possible. That includes using some of the less well-known, less "cool" bands that adorn my iPod and CD shelves. T-Rex are in fact a love of mine that has stemmed from very early childhood - no lie! My Mum had these awesome clunky video cassette tapes called (imaginatively) 'Glam Rock' and, funnily enough, they contained a great collection of hits from the glam rock era in the early 1970s. T-Rex, for me, are almost what the glam rock era was all about - that brash
look at me
kind of music, defined in tone and clanging guitars and unforgettable choruses. Also I believe that while Marc Bolan is a legend, he is solely credited for much of the band's success and I feel that the poor old rest-of-the-band are disregarded so quickly, it doesn't really seem on. In my belief, it's the band that made Marc Bolan and all together, the brilliant sound of T-Rex.
I could give you the back catalogue and be done with that, but I've been a saint and kept it to three key songs.
♥
Jeepster
I think that this is more of T-Rex than the overplayed 'I Love To Boogie' can ever offer. Ironically, this song is probably the fan favourite but never should have been: it was released in 1972 without the entire bands' permission and eventually caused them to break free from their record label. Woah. With an unforgettable, descending chorus and enough head-bopping fodder to last a week, this is definitely one to listen to.
♥
Children Of The Revolution
EVERYBODY knows this. Personally, I feel it's absolutely timeless - a classic, but not classic-enough sounding to be a classic, if you get what I mean? I am often found arguing my case with the people who flatly state, "Er, well it doesn't sound like it was recorded yesterday..." with a simple, "Why not?" I really do think it could have been recorded within the last five years and you wouldn't be able to tell the difference. A stonking boot-stomping song that will make anybody want to dance around their living room.
♥
Metal Guru
T-Rex doing what they do best; two-odd minutes of cheery-but-sad music fronted with whimsical, nonsensical lyrics. But they're so pretty! The Smiths tried to rip this off in the form of 'Panic' (yeah, you can hear it now, can't you?) but it'll never match up to this chart-topping performance.
Songs on YouTube
here
,
here
and
here
. I also want to draw you to the attention of
Get It On
, as this is probably the most-known T-Rex song and I'll be
damned
confused if you've never heard it.
What are your musical blasts from the pasts?